MAKO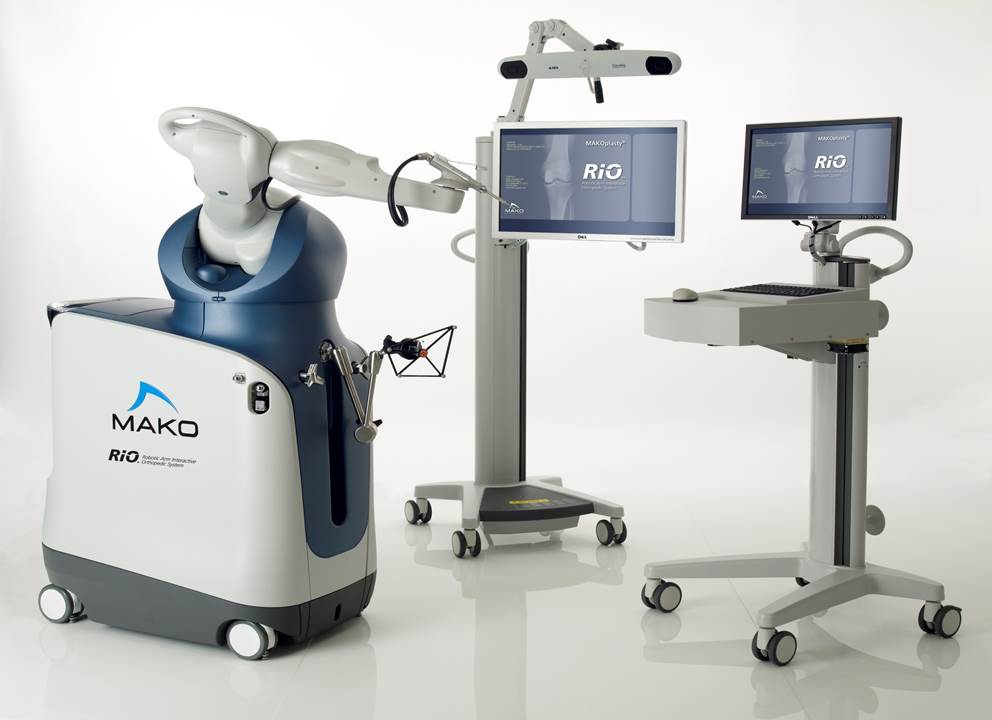 What is it?

Mako Robotic-Arm Assisted Technology can be used for total hip replacement, total knee replacement and partial knee replacement.
Before surgery

Mako Robotic-Arm assisted surgery starts with a CT scan of your impaired joint. The scan is used to generate a 3D virtual model of your unique anatomy. This virtual model is loaded into the Mako System software and is used to create a personal plan for your surgery.
In the operating theatre
During surgery, the surgeon guides the robotic-arm to position the implant exactly where it's needed based on your personalised pre-operative plan. The Mako System also allows your surgeon to make adjustments to your plan during surgery as needed.
When the surgeon prepares the bone for the implant, the Mako System guides the surgeon and helps prevent the surgeon from moving outside the planned boundaries. This helps provide more accurate placement and alignment of your implant (1,2)
The implant is made of metal alloys and high-grade plastics to match the function of bone and cartilage, respectively better. It is designed to move much like a healthy human joint.
When you hear 'robotic-arm assisted technology,' it's important to understand that the Mako Robotic-Arm doesn't actually perform the surgery. The surgery is performed by an orthopaedic surgeon, who uses the surgeon-controlled robotic-arm system to pre-plan the surgery and to position the implant in the socket.
The robotic-arm does not perform the surgery nor can it make decisions on its own or move in any way without the surgeon guiding it. The Mako System also allows your surgeon to make adjustments to your plan during surgery as needed.
After surgery
After surgery, your surgeon, nurses and physiotherapists will set goals with you to get you back on the move. They will closely monitor your condition and progress. Your surgeon may review an x-ray of your new joint replacement with you.
Your health care team will follow up with an aftercare plan for you and advise you on how to recover effectively.
Clinical Success
Significant primary clinical research conducted:
65+ peer-reviewed clinical publications
350+ scientific abstracts
Finding the following results:
Mako PKA resulted in 1% Revision Rate and 92% Patient Satisfaction at 2 Years. (3)
Mako robotic-arm assisted PKA resulted in lower pain at day 7 and more accurate implant placement than manual PKA in a randomised control trial.(4)
Mako robotic-arm assisted THA resulted in higher Harris Hip Scores and higher UCLA Activity Scores compared to manual THA at minimum 1-year follow-up. (5)
Mako robotic-arm assisted TKA resulted in more accurate bone resections and implant placement and less soft tissue damage than manual TKA in a cadaveric study (6,7)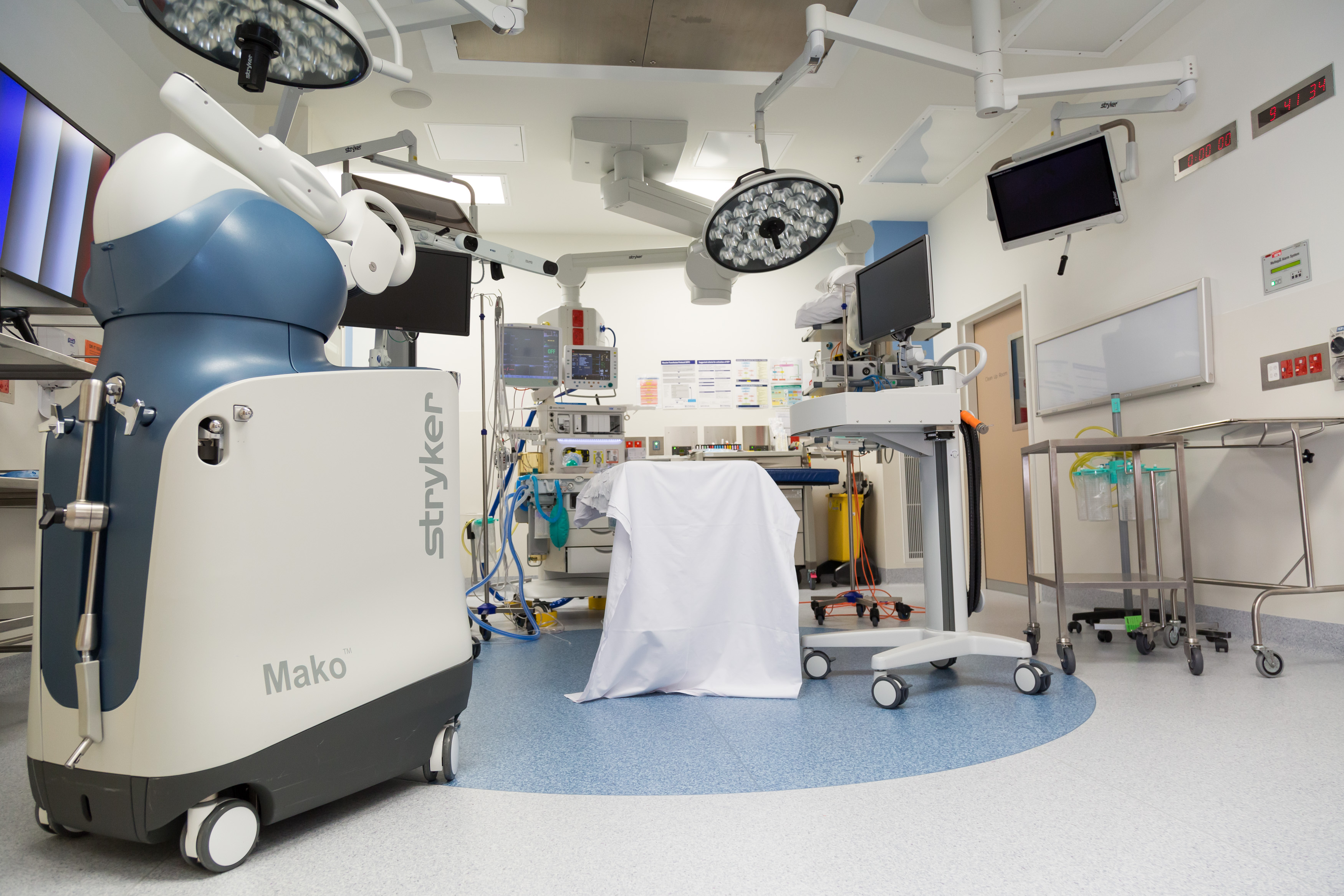 Nawabi DH, Conditt MA, Ranawat AS, Dunbar NJ, Jones J, Banks SA, Padgett DE. Haptically guided robotic technology in total hip arthroplasty - a cadaver investigation. Proc Inst Mech Eng H. 2013 Mar22 7(3):302-9
Illgen R. Robotic assisted total hip arthroplasty improves accuracy and clinical outcome compared with manual technique. 44th Annual Advances in Arthroplasty Course. October 7-10, 2014, Cambridge, MA
Coon T, Roche M, Pearle A, Dounchis J, Borus T, Buechel F Jr. Two Year Survivorship of Robotically Guided Unicompartmental Knee Arthroplasty. 26th Annual Congress of ISTA, October 16-19, 2013, Palm Beach, FL.
Millennium Research group 2013 report
Robotic Assisted Unicompartmental Knee Arthroplasty: The MAKO Experience. Roche M. Clin Sports Med. January 2015; 33(1): 132-32
Robotic-Arm Assisted Total Knee Arthroplasty Demonstrated Accuracy To Plan Even During Learning Phase Hampp E., Scholl L., Prieto M., Chang T., Abbasi A., Bhowmik-Stoker M., Otto J., Jacofsky D.J., Mont M.A. European Knee Society Arthroplasty Congress 2017, London, UK, 20 & 21 April 2017
Robotic-Arm Assisted Total Knee Arthroplasty Demonstrated Soft Tissue Protection Hampp E., Bhowmik-Stoker M., Scholl L., Otto J., Jacofsky D.J., Mont M.A. European Knee Society Arthroplasty Congress 2017, London, UK, 20 & 21 April 2017