Robotic surgery improves hip and knee joint replacement accuracy
Dr Andrew Letchford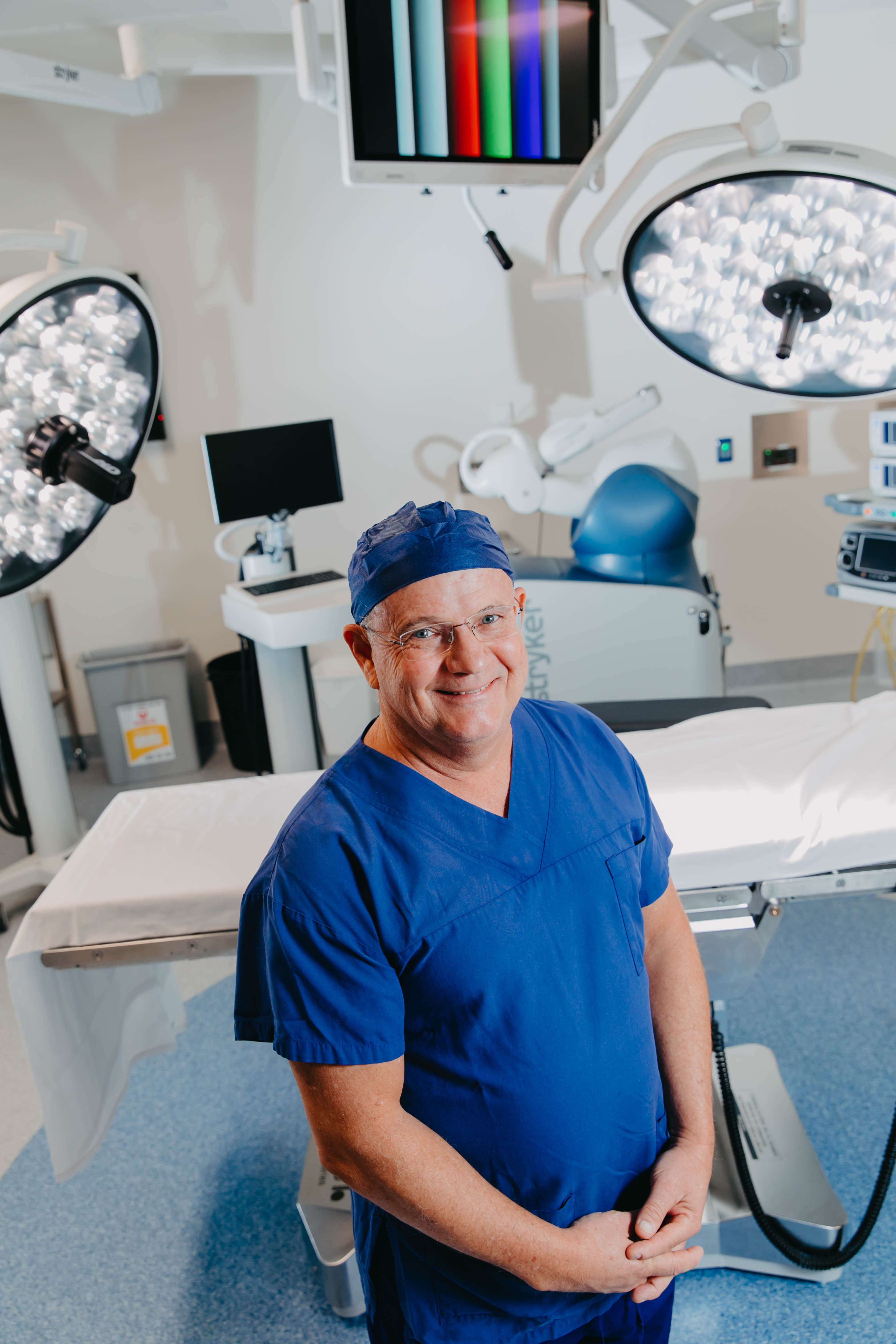 Gold Coast Private has advanced state of the art robotic technology giving surgeons the option of performing robot-assisted surgery in the areas of orthopaedics, ENT and neurology.
Orthopaedic lower limb surgeon, Andrew Letchford, offers robotic surgery for hip and knee joint replacement, giving him the ability to more accurately plan and execute surgical plans in the operating theatres at Gold Coast Private Hospital.
Dr Letchford said the use of robotic technology was a surgical evolution from computer navigation of joint replacements that has helped him get a more uniform outcome for his patients, particularly in respect to knee replacement surgery.
"Robotic assisted surgery has only been available in Australia since 2016. We await joint registry confirmation of the full impact of this technology, however, we are definitely seeing improvements in the performance of partial knee replacement surgery," he said.
"In my hands, I've certainly found a much more uniform, reliable outcome for my patients in the post operative phase.
"Computer navigation has been around for many years and with the addition of robotic technology we have now developed ways to finely balance a joint replacement in real surgical time.
"The advantage of robotic surgery is it allows us to tether the pre-planned navigation to a robotic arm and cutting blade, enabling three dimensional micro adjustments of implant placement to reduce soft tissue trauma and compromise."
Dr Letchford said the ability to make these micro adjustments meant he could better balance the knee joint and this translated to more reliable outcomes and satisfied patients.
"For partial or total knee replacements, the robotic guidance and plan execution helps me balance the surrounding joint ligaments, which is of critical importance because a balanced knee means a more comfortable outcome," he said.
"For hip replacements, positioning of the implants accurately is of critical importance. Having the acetabular socket accurately placed relative to the femoral component, reduces the risk of dislocation.
"The robotic technology also gives me very good feedback in relation to hip length, which decreases the risk of leg length inequality that can otherwise lead to things like gait and walking problems and spinal issues.
"The robotic planning assists in accurately reconstructing the individual's original anatomy, countering for the disease process which can lead to leg shortening. So we are able to increase the length of the arthritic hip to match the other leg."
Dr Letchford said giving patients real expectations and reducing post-operative pain was also a big focus for his surgical team.
"Hips are generally a better tolerated operation, and more reliably controls pain and achieves positive outcomes, whereas knee replacements tend to be a much more uncomfortable procedure for patients," he said.
"We work very hard to decrease post-operative surgical pain using multiple methods of pain management including injecting the entire knee capsule intraoperatively with local anaesthetic to ensure good pain relief in the first 24 hours.
"We are also studying the use of inserting "pain pump" cannula devices that can be turned on for the second 24-hour post operative period. This is in addition to the physiotherapists, use of 'ice machine' cryotherapy units and close monitoring via our experienced nursing staff, which all helps to give our patients the speediest of recoveries ."
For more information contact:
Dr Andrew Letchford
Suite 3C Level 4
Pacific Private
123 Nerang Street, Southport
P: 07 5527 1818
F: 07 5526 4788
E: reception@pacificorthopaedic.com.au
W: www.dr-andrew-letchford.com.au