At Gold Coast Private, dietitian Fiona Brown has worked closely with executive chef John O'Shea to develop a menu that defies the age-old perception of "hospital food", instead creating dishes that are visually appealing, tasty and made fresh to order.

The result is a menu that offers variety and balance through nutritious and interesting meals with options to add healthy extras such as eggs, meats, veggie sticks, salads, smoothies, nuts and seeds.
While we know our patients are eating a healthy diet during their hospital stay, Fiona and John have put together some tips and recipes to help ensure those healthy habits continue once discharged.
Tips For Healthy Eating

by Gold Coast Private dietitian, Fiona Brown


Eat regularly: It's essential for good health that we aim for a regular eating pattern of meals and snacks. A planned pattern of eating is more likely to include the recommended number of serves from the five food groups. A spontaneous, unstructured eating pattern is more likely to include too many foods that are higher in saturated fat, added sugars, added salt and calories.
Everything in moderation: This is the key to healthy eating. Rather than depriving yourself of your favourite foods, why not allow yourself to eat (and enjoy) your treats, in moderation.
Don't skip breakfast: Following on from the first point, breakfast skippers are more likely to be tempted by unplanned food choices during the morning and large serves at the next meal or snack. Just think of how yummy that large piece of banana bread looks at morning tea or that block of chocolate looks after dinner if you've missed breakfast!
Eat a variety of nutritious food: It is essential we eat a wide range of different coloured fruits and vegetables, wholegrain breads and cereals along with different sources of protein, for example, red meat, chicken, fish, eggs, dairy, legumes and nuts. This will provide our bodies with a variety of nutrients, vitamins and minerals, keeping us healthy and energetic.
Drink plenty of water: This is something so simple and easy to obtain however it is so often forgotten. If your body is lacking water then it cannot work as efficiently as it should. The body requires water to survive and muscles, in particular, need water to rebuild and replenish. Your body will find it difficult to burn fat for energy if it's lacking water so drink up!
Get some sun: Ok, so you can't eat the sun so technically it's not part of your "diet", but sunlight is crucial for a healthy body. If the body doesn't see a lot of sunlight you may be at risk of low Vitamin D levels, which is a nutrient that is vital for strong bones and increasing 'good cholesterol'. It also plays an important role in the immune system and blood sugar control. We all know that skin cancer is a problem, particularly in Australia, so we are not encouraging or recommending excessive sun exposure, just 10-20 minutes of sunshine a day is plenty.
Do some exercise: The benefits to exercise are endless including: better weight control, healthier heart, lower risk of developing diabetes and osteoporosis, lower risk of developing some cancers, better mental health, a sharper mind.....just to name a few! Aim for 30-60 minutes a day of physical activity most days of the week. Remember to start slowly and gradually build up to a higher intensity. Most importantly, exercise for fun and enjoyment and not punishment, find something you enjoy or exercise with a friend.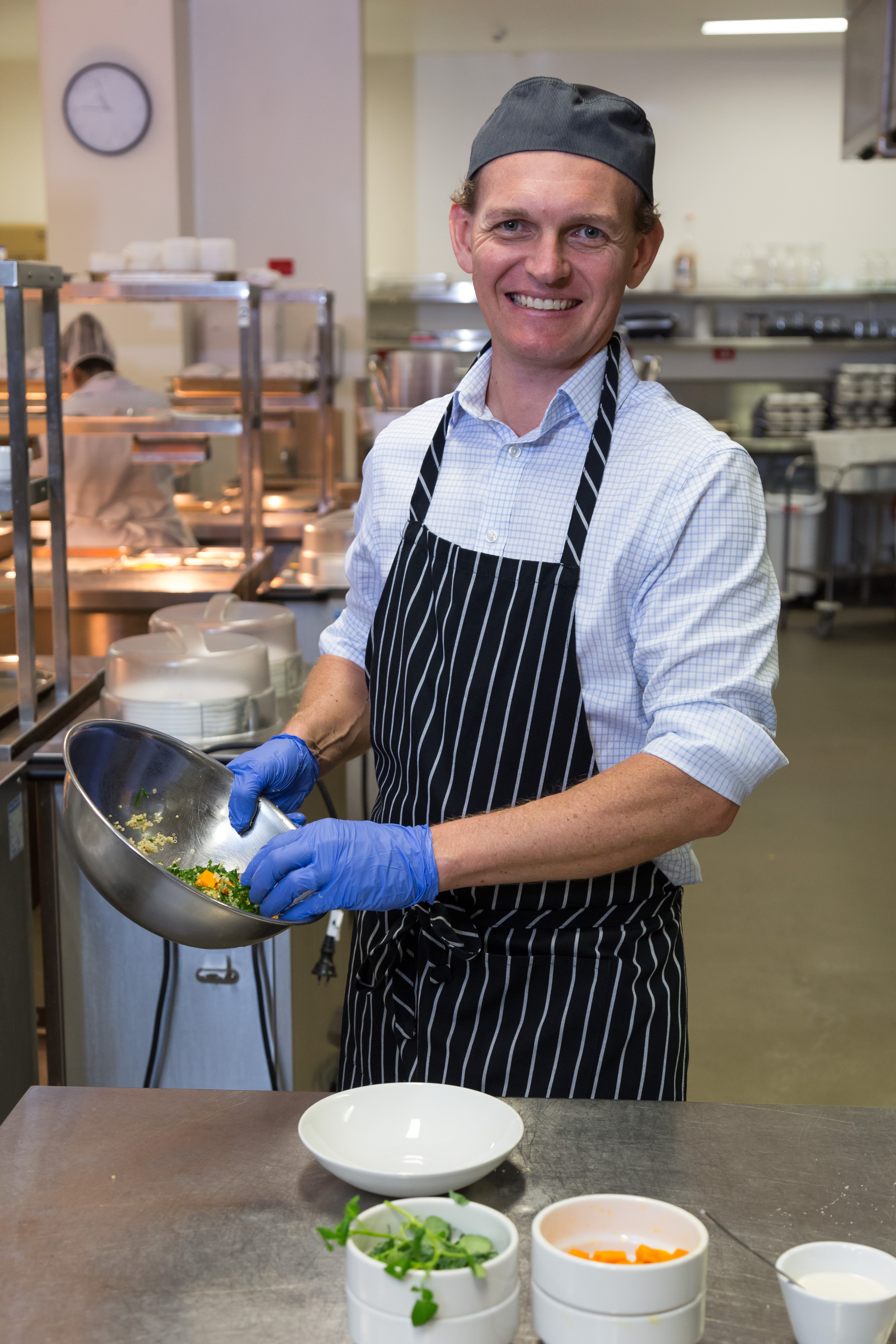 Herb Crusted Hoki
Ingredients:
6 Hoki Fillets
120g portions
2.5cm piece fresh ginger
1 clove fresh garlic
½ fresh green chili
6 stem fresh coriander
2.5cm piece fresh lemongrass
1 cup Jasmine rice
150mL coconut cream - for rice
1 cup water
1 cup carrot
50mL coconut cream - for carrot puree
2 Cobs corn
¼ Spanish onion
2 sprigs coriander
Knob of butter
1 lime wedge to serve
Method:
Place hoki fillets into steamer basket
Roughly chop ginger, garlic, chili, coriander and lemongrass in high powered food processor.
Steam for 10 minutes
Place rice, water and coconut cream into baking dish. Cover and steam for 20 minutes. Remove from steamer and fluff with fork.
Remove corn from cob. Melt butter in pan, add corn and simmer for 10 minutes. Dice Spanish onion and coriander and fold through. Season with salt and pepper.
Roughly chop carrot and place in a pot with coconut cream. Simmer with lid on for 15 minutes or until soft. Blend for one minute using a stick mixer or high powered blender. Season to taste.