Patients given free access to 24 hour emergency advice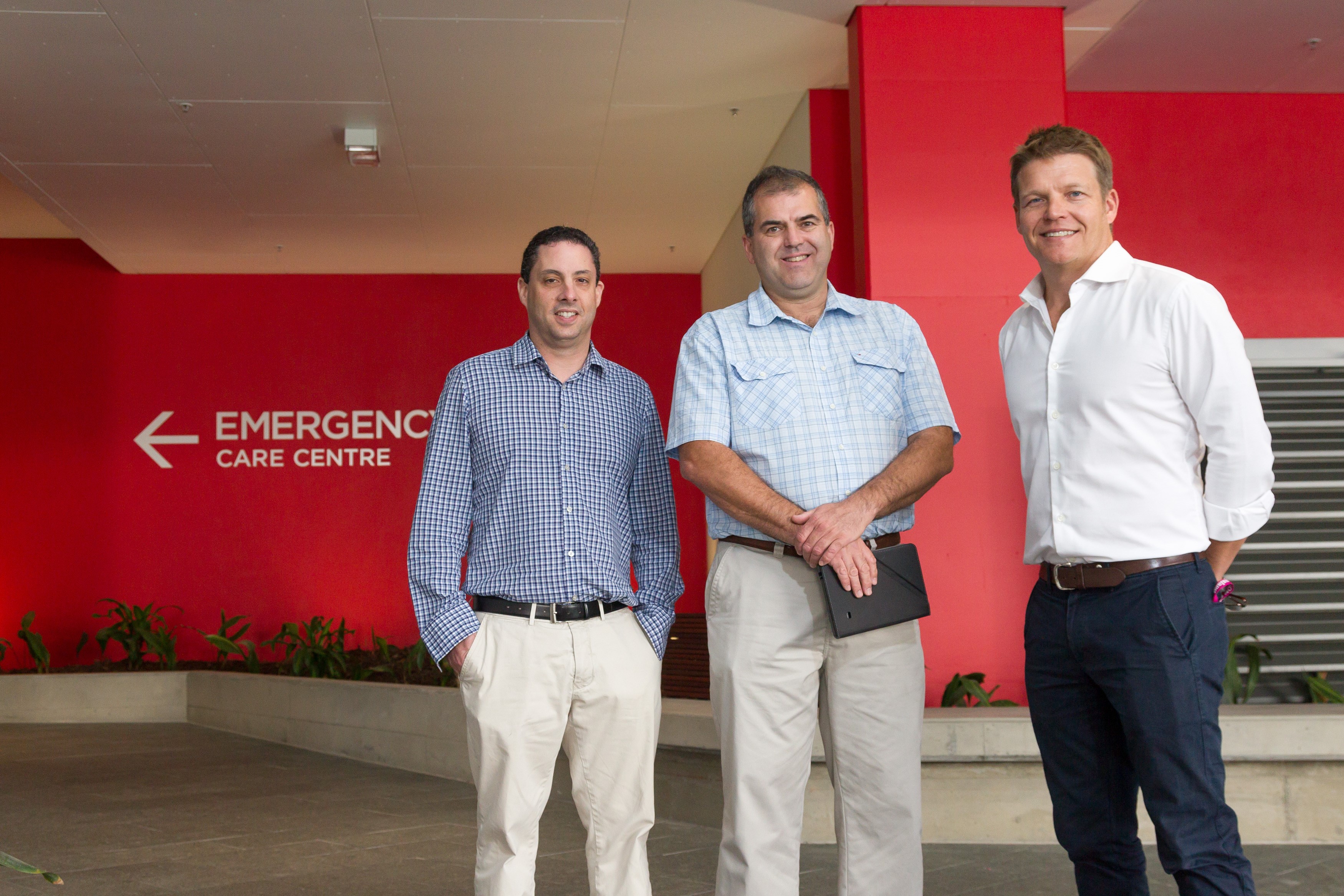 Image: Gold Coast Private Director of Emergency, Dr Anthony Padowitz with Emergency Medicine Specialists and Docto co-founders, Dr Tim Harraway and Dr Jon Field
Patients of Gold Coast Private Hospital are the first in the country to be given complimentary access to a 24 hour online tele-health service providing on-demand advice from its own emergency doctors.

Co-founded by doctors Jon Field, Tim Harraway and Andrew Jones, Docto is Australia's first tele-medicine hospital that is set to transform the delivery of medicine, making it more easily accessible for all Australians.
Gold Coast Private patients will be able to use the service free of charge to discuss health concerns, ensuring access to high quality health care continues outside their hospital admission.
Docto's director of emergency, Dr Harraway, said providing this additional service demonstrated Gold Coast Private Hospital's ongoing commitment to the care of its patients.
"Gold Coast Private Hospital has partnered with Docto, providing its patients with 24 hour medical advice by qualified emergency medical specialists after the patient has been discharged from hospital," he said.
"Patients who have concerns regarding their health, be it complications from surgery or a relapse of symptoms, can contact Docto at any time of the day or night for everything from advice to prescriptions.
"Docto can also liaise with the patient's own specialist, organise investigations or an admission if necessary."
Dr Harraway said online medicine was the way of the future.
"We believe that ultimately tele-medicine will become the first port of call for people in need of medical advice," he said.
"Docto enables people to gain expert health advice from anywhere in the world via phone, instant chat, video or email, helping them to determine the seriousness and urgency of their condition, and, if needed, to organise treatment"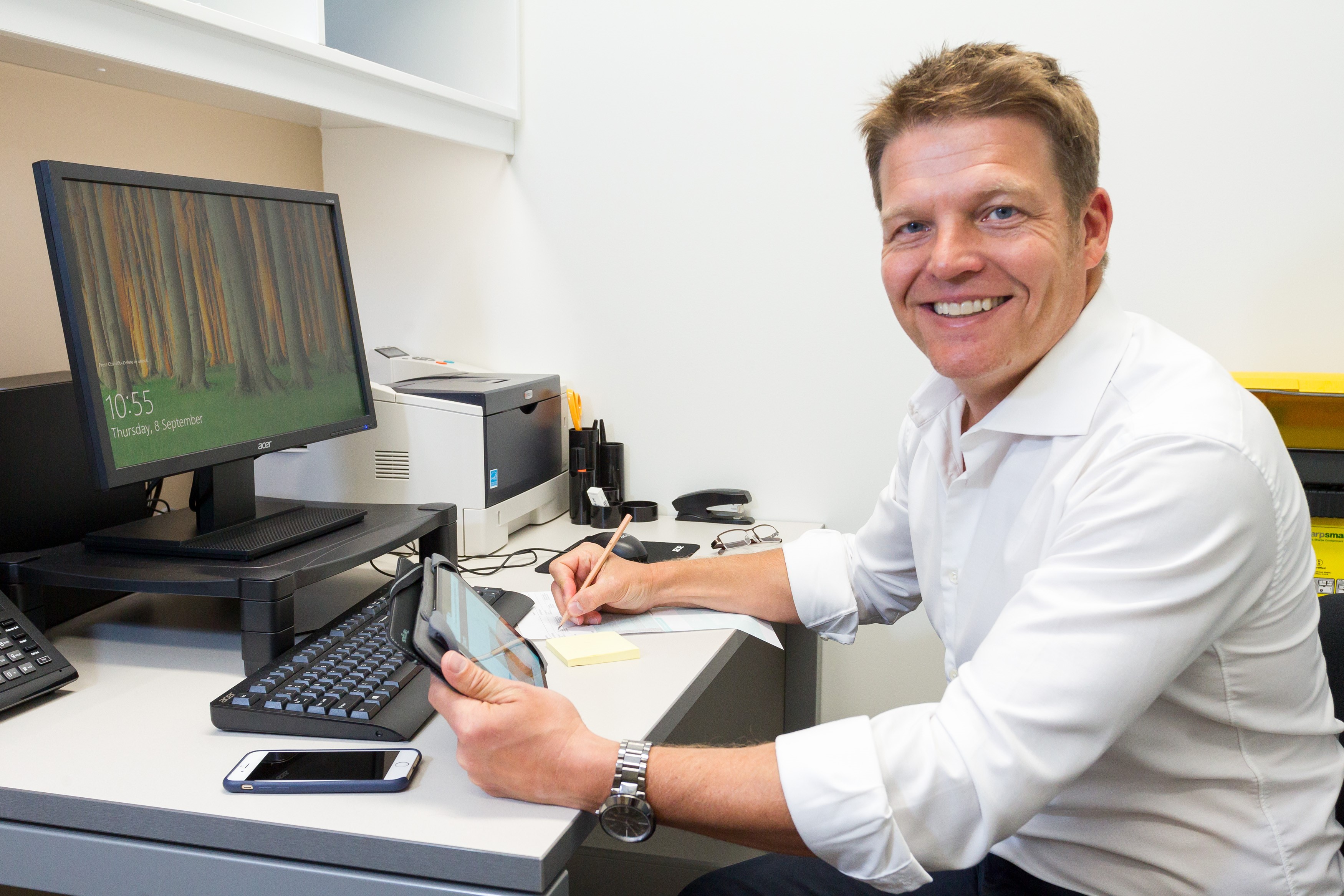 Image: Gold Coast Private Emergency Medicine Specialist and Docto co-founder, Dr Jon Field
Docto director, Dr Field, said emergency medicine was only one facet of the service.
"What we have created is a tele-medicine hospital with tertiary-level medical services made available for anyone, any time, no matter where they are living or travelling," he said.
"We have more than 50 specialists already on board, many of whom operate at Gold Coast Private Hospital, who provide video consultations by appointment.
"We have every specialty covered from maxillofacial, orthopaedics and paediatrics; to infectious disease, psychiatry, gynaecology and travel medicine, as well as a team of allied health professionals including dietitians, speech pathologists and physiotherapists."
Dr Field said while this unrivaled access to medical specialists was a convenience for people in urban areas, it really opened doors for those overseas or in rural and regional Australia, who may be considering travelling for an opinion or treatment.
"Through Docto we can organise a consultation online, potentially averting the need for unnecessary travel," he said.
"For people outside urban areas or overseas, having access to doctors online or over the phone can not only save patients' time and money, it can also save lives."
Dr Field said Docto was not attempting to replace face-to-face consultation, but rather to provide an option for people who may otherwise struggle to get to a specialist.
"Face-to-face consultation will always be superior. The role of general practitioner is crucial and we encourage our patients to get a referral from their GP to see one of our specialists, wherever possible," said Dr Field.
"What we are providing is a platform for people to ask questions and receive advice when visiting a GP or hospital isn't possible or convenient."
Docto provides diagnostic and treatment advice, medical reports and certificates, electronic prescriptions and referrals to the nearest appropriate medical facilities, as well as organises investigations or hospital admissions.
The service is also available for GPs who can call for advice from a specialist at any time.
Medicare rebates apply to eligible patients with GP referrals.
For more information visit docto.com.au.