NEW TECHNOLOGY GIVES BEST START TO LIFE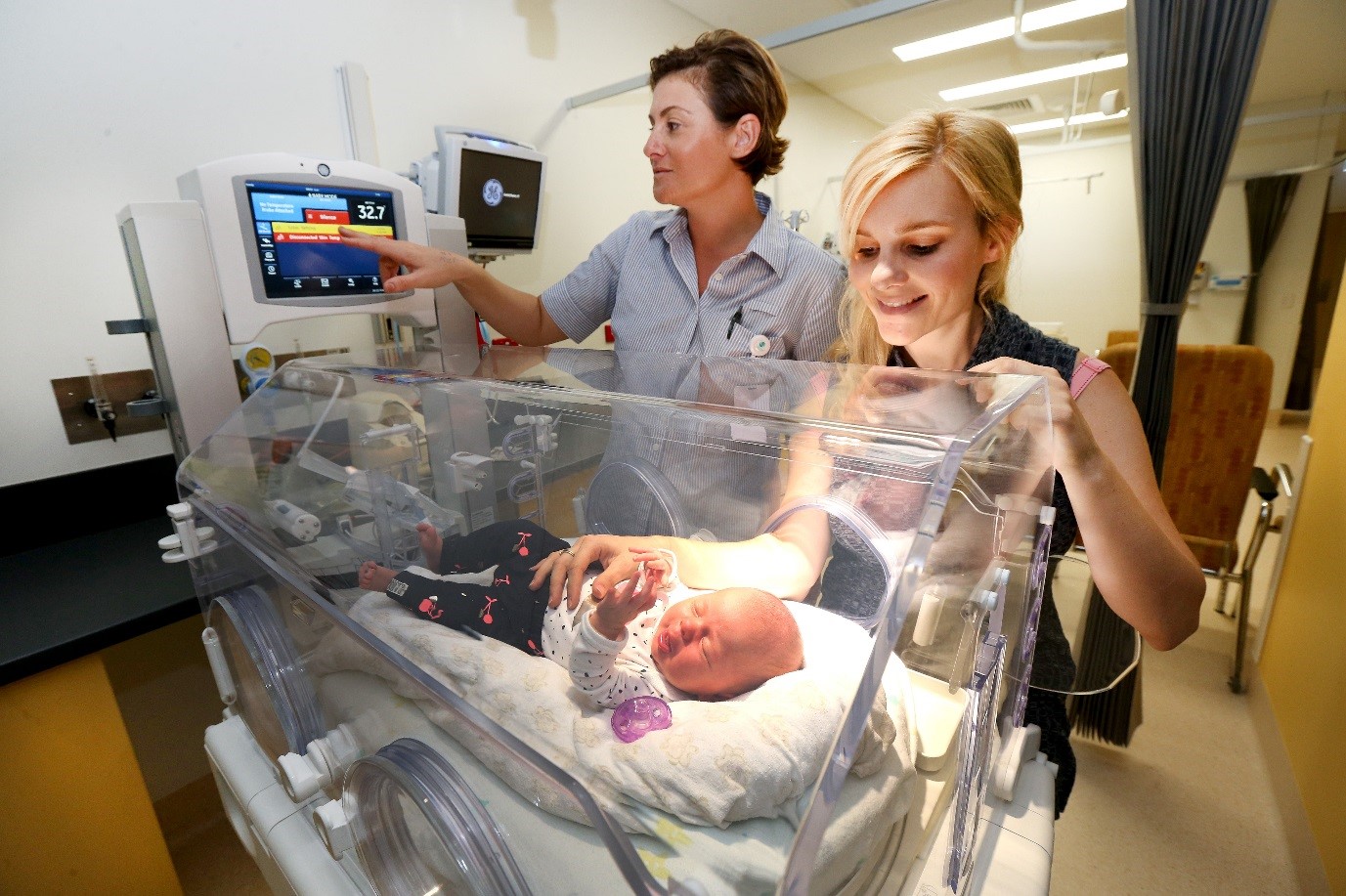 Rebecca Jewell
Women giving birth at Gold Coast Private benefit from ground breaking technology used to assist obstetricians and midwives through labour.
The hospital offers K2 foetal monitoring - a paperless system that allows obstetricians to keep track of up-to-the-minute data on their patients from anywhere, via smart technology.
All five birthing suites at Gold Coast Private are fitted with the technology, which stores antenatal information, labour and postnatal details.
The system is also fitted with an in-built alert that will instantly notify staff if deviations arise, supporting the one-on-one care provided by the midwife during labour.
Gold Coast Private maternity unit manager, Judy Ross, said K2 foetal monitoring provided an additional level of assurance for both obstetricians and mothers throughout the birthing process.
"The K2 system means obstetricians can keep a really close eye on how the labour is progressing and, for a lot of women, that is very comforting," she said.
"It provides the obstetrician with an in-depth picture of what is taking place, in a clear and concise way, so they are better equipped to make decisions such as when is the right time to come in and assist with the birth.
"While all mothers receive the one-on-one care and assistance of a qualified midwife, who communicates with the obstetrician throughout the labour, it gives that additional assurance that their health - and their baby's health - is in the very best hands."
Ms Ross said Gold Coast Private also offers the latest state-of-the-art Giraffe isolettes, with five of the cots in its special care unit supporting sick or premature infants or those requiring phototherapy.
The unit is equipped to admit up to nine babies, from 32 weeks gestation, and also features a Hamilton Neonatal Ventilator, Bubble CPAP and two Panda emergency resuscitation beds.
"The Giraffe isolettes have an in-built monitoring system, including baby scales, which allow for babies to be electronically weighed inside the cot without needing to be disturbed," said Ms Ross.
"Traditional cots require moving the baby outside to be weighed on cold scales, which can be traumatic, particularly for a premature baby, so this is a big advantage of the new Giraffe cots.
"The cots can also be used with fibre-optic Biliblankets to maintain phototherapy treatment for jaundice, even while the mother is enjoying skin-to-skin contact with her baby.
"In addition, they have side-mounted phototherapy lights, if additional phototherapy treatment is required.
"Along with providing enhanced care for mum and bub, the user-friendliness of the cots is also a drawcard in attracting the best special care nurses and doctors, who want to work with the latest technology and equipment to help give newborns the best start to life."
Ms Ross the special care nursery also featured a 'parent's room' providing an invaluable space for parents and babies to bond.
"This space allows parents to enjoy private time with their growing baby, express in private and establish breastfeeding," she said.
"These are factors new parents can miss out on in a traditional special care unit format, but are all really vital in ensuring parents and their new bub have the same opportunities in this setting as they would in the general maternity ward."
Ms Ross said across-the-board, Gold Coast Private maternity had been designed for women, babies and their families to be cared for in a beautiful environment with five-star treatment and state-of-the-art equipment.
The unit includes 25 single and double beds, all in en-suite rooms that encourage the partner to stay overnight and fully bond in a family environment.
The maternity ward is staffed by highly qualified obstetricians, paediatricians and midwives, including four lactation consultants and midwives who are trained in the latest hypnobirthing and calm-birthing techniques - which are only continuing to grow in popularity with new mothers.
Ms Ross said pregnant women had their first appointment with the midwives at 20 weeks gestation, providing increased support and education during pregnancy.
"Antenatal classes are provided by qualified midwives discussing all aspects of labour, hypnobirthing, calm birthing and post natal support, including lactation support," she said.
"After the baby is born, new parents enjoy complimentary dressing gowns, chocolate dipped strawberries, a room service snack menu and, on one night, a restaurant themed congratulatory three course dinner, giving them a 'hotel' style experience.
"During the stay, mothers are assisted in caring for their baby and supported and educated in feeding their newborn, with Gold Coast Private the only private hospital in the city fully staffed by qualified midwives.
"Care is not stopped on discharge, with new mums also offered the free service of two home visits from a midwife for further support when they return home with their new bundle or joy."