NEW 4D CT SCANNER THE FASTEST ON THE GOLD COAST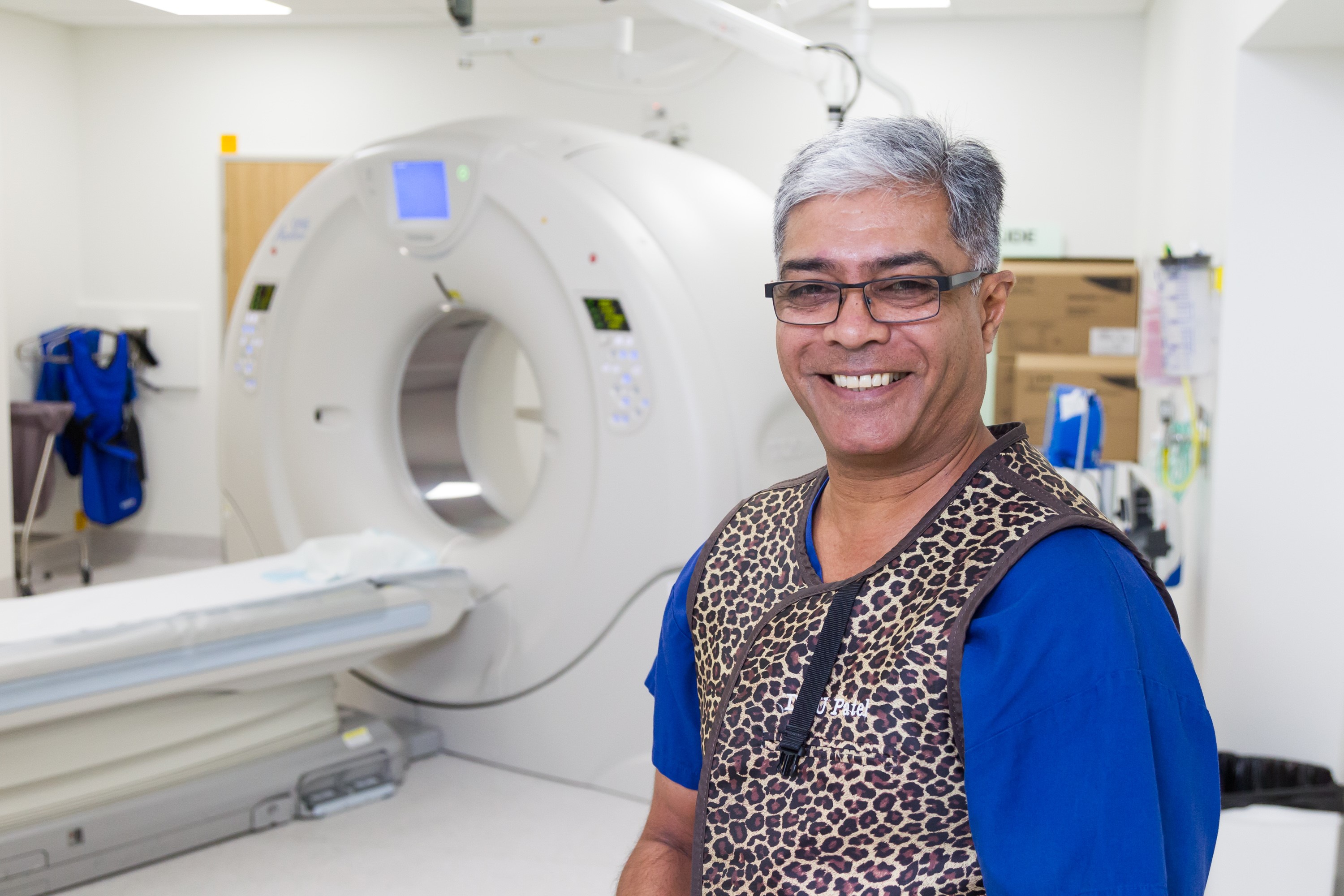 Image: Gold Coast Private Queensland X-Ray Radiologist, Dr Umesh Patel

The new CT scanner at Gold Coast Private's imaging provider, Queensland X-Ray (QXR), can perform a CT angiogram in one heartbeat, making it the fastest and most effective scanner on the Coast.
The machine performs four-dimensional studies, adding 'time' to the three anatomical dimensions, and can take images at extremely high speeds, meaning patients spend less time in the scanner.
Short scan times allows for dose and contrast (dye) minimisation, therefore maximising patient comfort regardless of age or size.
The scanner's 78cm wide-bore, patient-friendly flared design also helps to minimise claustrophobia and, coupled with the wider positioning couch, caters to large or obese patients.
QXR radiologist Umesh Patel said the benefits of such an advanced scanner were far reaching.
"At this hospital we can now do a CT angiogram of the heart in one pulse," he said.
"The advantages of this technology are many, from speed of scanning to maintaining accuracy and providing quality results.
"Having a scanner that gives us the largest scanning volume available, as opposed to earlier generation scanners, means that we can scan a traumatised or unwell patient very quickly without compromising image quality.
"The faster we can get the patient scanned with the lowest possible dose and use of contrast, the sooner we can provide the answers to their illnesses and start the correct treatment."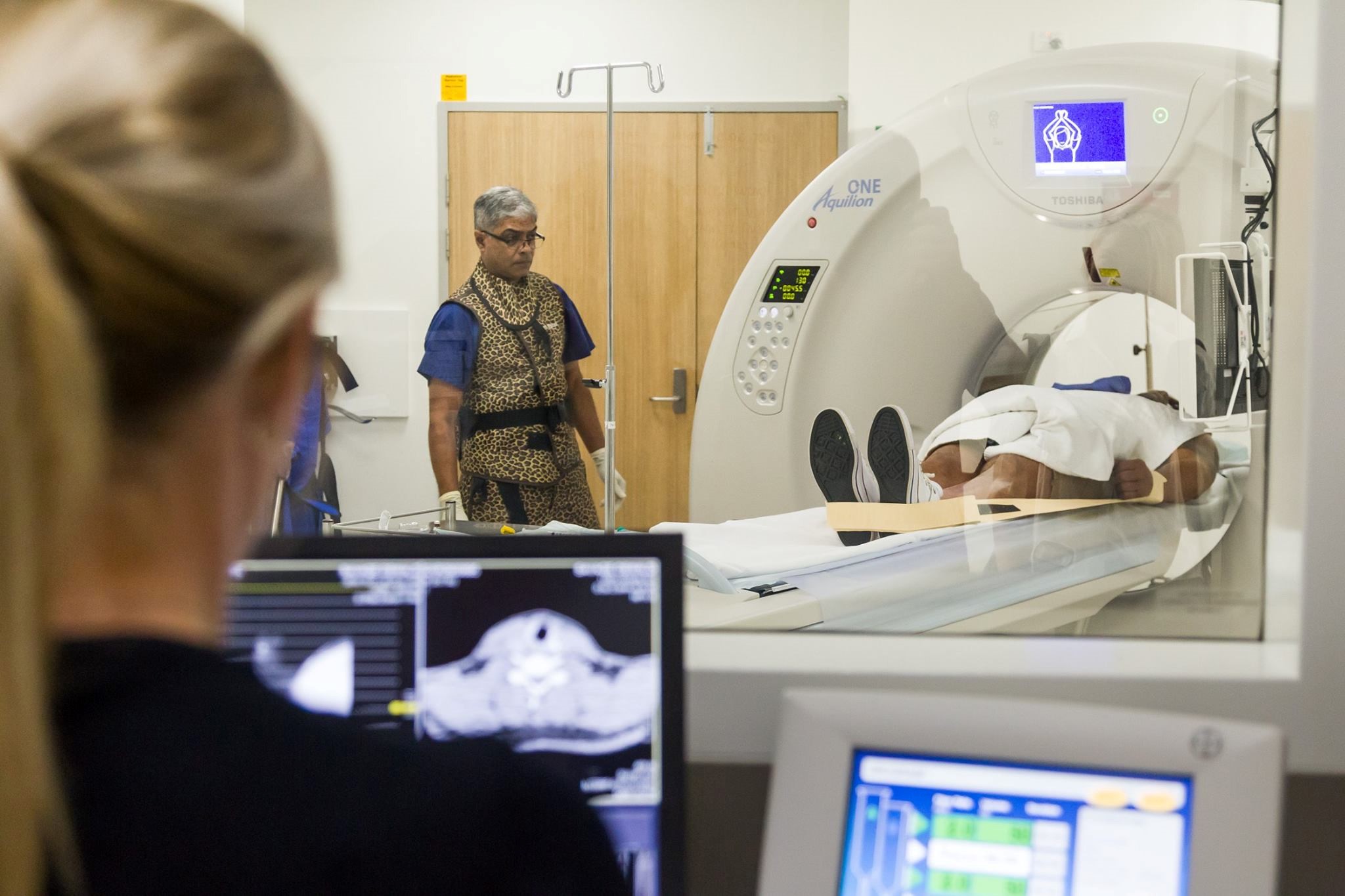 Image: Dr Umesh Patel with 4D CT MRI scanner

Dr Patel said the scanner also included Single Energy Metal Artefact (SEMAR), which enabled excellent image quality at a lower dose despite the presence of surgically placed metal joint replacements.
"In addition, the low dose auto subtraction feature of this CT allows for the removal of bone and calcium deposits during angiographic examination, improving the diagnostic quality and accuracy," he said.
"It also has 'sure cardio prospective' which allows accurate CTCA scanning of patients with arrhythmias and a fast heart rate."
The scanner performs TAVR scanning, single shot volume scans, 4D scanning, one shot extremity, dynamic MSK, volumetric dual energy tissue classification, bone and calcium subtraction scanning, one shot cardiac and brain perfusion.
"All of these features dramatically improve the CT diagnostic capabilities and accuracy, providing patients and their doctors the best quality images from which to provide the correct diagnosis," said Dr Patel.
QXR supports doctors in caring for their patients and offer a range of options for accessing patient reports and images.
GPs and surgeons have access to patient reports, no matter which QXR practice their patient visited, and can be put in touch with the radiologist no matter where they are located on a particular day.
QXR also offer excellent support for access to patient's images online, as well as a one-on-one service for referrers via its Client Service Officers for any referral requests or troubleshooting assistance.
For more information or to book an appointment contact Central Bookings on 5552 5707 or visit www.qldray.com.au.